Why are the digital marketing consultants becoming important for businesses?
Companies with established in-house digital teams may be too deep in the weeds to realize where their weakness lies. It might be the lack of improving the marketing technology or moving around the strategy gaps instead of taking intensive actions and rebuilding their approach.
Consequently, they risk losing opportunities in market share to competitors and they might as well become very systematic instead of working on creative solutions.
Digital marketing consultants are playing a different role than in-house teams and digital agencies.
While in-house teams and agencies can help businesses to execute and track the digital marketing plan, the consultants can always provide the best help in building an effective strategy and provide enhanced researches on the gaps and recommended technology and platforms.

Companies who regularly recruit outside digital consultant to spot marketing inefficiencies and improve their marker strategy are usually getting a sufficient process and results.
Everyone is looking for more improvements in their digital marketing results and ROI. While some companies solely rely on a combination of tactics, there is always a big potential to discover new tactics in more strategic and cost-effective ways.
The digital consultant is playing a big role in indicating the best tactics and advising on the ideal approach for implementation and measurements that are suitable for your organization, consumer, and marketplace. Not convinced?
Digital consultants and business objectives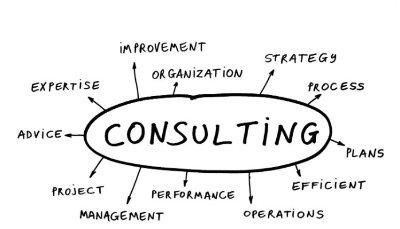 Let's imagine how many struggles you are facing with sales performance due to poor quality of leads, the number of competitors that are going for more bold approaches with their digital marketing budget and tactics, the insufficient metrics and hazy results you are receiving from the digital agencies and in-house teams, the inconsistency of your digital marketing campaigns, and the poor results of your digital advertising efforts.
The digital marketing consultancy firm is the candidate which you hire to overlook and build enhanced solutions for such difficulties.
Their main role is to connect the business objectives with the digital marketing practices and provide the right metrics for performances' tracking.
The rise of digital marketing consultants
According to the Freelancing in America: 2016 Survey, the annual report conducted by the Freelancers Union and Upwork, freelancers now make up a whopping 35% of the US workforce and contribute around $1 trillion to the U.S. economy annually.
While in most of the international markets digital marketing consultants are not so common, in the US market the number of independent consultants is increasing rapidly.
The majority of big brands and startups are looking for consultants to advise on the best approach for digital marketing strategy and cutting the costs of paid advertising.
Why do people want to hire Independent consultants?
According to the feedback from several recruiters and freelance websites, the majority of business owners are relying on digital marketing to grow their business profitability and market share.
While there are plenty of digital marketers who can create and manage their SEO and social media, the results are usually disappointing and the competition is growing harder.
Business owners are actively searching for solution providers who are expert in the market to advise on strategy and conversion metrics. Counterintuitively, even an expensive freelance marketing consultant can save money and decrease the costs of ineffective campaigns and paid advertising.
While the hourly fee could be higher than a regular agency, good consultants create more value than they charge. And because companies only retain them for a few hours each week or month, they reduce the overhead cost.